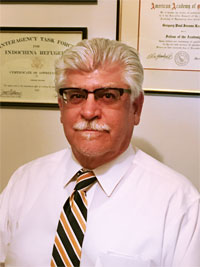 Dr. Kracher serves as a consultant to the National Eye Institute and has served over 23 years at the Wilmer Eye Institute of Johns Hopkins where he held the title of Director of the Contact Lens Service.
The Frederick office is also a preferred co-management site for the largest national laser refractive organization, TLC.
Dr. Kracher was appointed Assistant Professor at Johns Hopkins from 1980--2001. His many years' experience at the cutting edge of ocular research and discovery at Johns Hopkins and the National Institute of Health enabled him to bring to Frederick, fifteen years ago, an optometric practice with extraordinary expertise.
Dr. Kracher is a fellow of the American Academy of Optometry and also a member of the American Optometric Association. He is nationally recognized for his expertise in contact lenses and application for patiens with a diagnosis of keratoconus and othe rmedical indications.